(And another one gone, another one gone. Another one bites the dust) Is anyone else picturing the guy driving the hearse and rocking out? Best.Commercial.Ever! LOL
House # 1 & 2: Sort through all the papers in the office; Put away all the papers in the office. Yah! I not only went through all my "to-file" papers, I also went through the filing cabinet! I got rid of enough junk to fill a small u-haul box. It's pretty awesome :-)
House # 7: Hang the shelves for the living room bookshelves. Hehe I did this one kind of out of order. If you notice, number 6 is the sand and paint them? I hung them first. My "plan" is to finish sanding them and paint them in place because they are half done and just need some finishing touches. LOL we'll see how that goes ....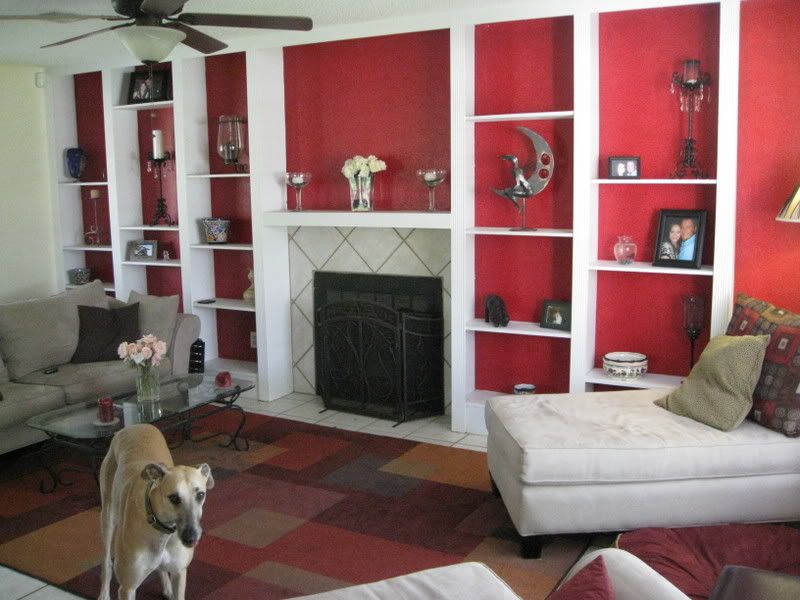 Bandit is a picture whore :-) Most the items on the shelves were really fillers. This was a couple weeks ago and I've already added some more substancial items. You'll see when I get around to the before and after pics of the house! Keep in mind ... this wall was neon blue when we moved in!
In Progress: House # 16: Get out of CHAOS. I could technically say I am not living in CHAOS. I could have the whole house ready for company in a matter of 20 minutes. However, I want to wait on this for a couple months to make sure the cleanliness sticks. I feel SO much better, though! Our apartments were always clean and I forgot how nice and stress free it is to really live in your home!
Just for me #17: The pink caboodle is a goner!!! I found this awesome makeup bag I got from Becky a couple years ago for hosting a Mary Kay party. It rocks :-)